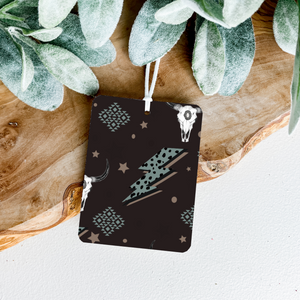 Western Bolt Car Freshie
Regular price
Sale price
$9.50
---
Western Bolt Freshie
The cutest and best smelling accessory for your car! These air fresheners are made to order and can be created in any of the scents below. The car freshie is made of dyed felt, comes unscented with a 5 ml bottom of the scent of your choice, once sprayed, the scent will last 3-6 weeks and once you feel it is ready for a refresh you can spray it with your favorite perfume, air freshener or more of the scent you chose.
By having the ability to put your own scent on it, you can choose how strong of smell you want.
These western personalized car freshies are the perfect gift, or fun treat for yourself!
Scents:
Desperado

 - Top notes of bergamot and clove leaf blended with floral mid notes of coriander, jasmine, and ylang ylang. All on a dry bed of soft leather, Tonka bean, and toasted oak.

Gunpowder

 - Top notes of midnight air accord, vanilla essence, and sheer citron. Mid notes of black pepper, patchouli, and winter peonies balanced with base notes of gunpowder accord, black musk, and oakmoss absolute. 

Open Range

 - Top notes of mountain air, sheer eucalyptus, and fresh basil. Mid notes of tobacco leaf, climbing ivy, and white lavender on a woody bed of aged sequoia, red wood, and soft cashmere.

Ranch Hand

 - Top notes of coconut and clove buds blended with mid notes of leather, olibanum, and tobacco leaves all on a bed of cedar wood, patchouli, and Tonka bean.

Western Lace

 - Top notes of lemon blossom, sun-dried cotton, and English lavender. Mid notes of Muguet, cyclamen petals, and palm leaves on a sweet bed of French vanilla, Tonka bean, white musk, and birch wood.

Black Raspberry Vanilla

 

- Delicious blend of vine-ripened Black raspberries and creamy vanilla to make the perfect finish. 
Christmas Cheer

 

- 

 

Fruity, spicy bouquet with cinnamon, clove, fir needle, ginger root, and pine with a sweet-apple background.

Love Spell - Juicy citrus notes of peach, bergamot, and orange atop a floral heart of apple blossom, jasmine, and rose with base notes of woody greens, Tonka Bean, and musk make this Victoria's Secret* duplication especially delectable.
A & F - 

Smells just like the popular A and F* men's fragrance. A bold bouquet of citrus with mid notes of bamboo, marine accord, and lilies on a dry bed of amber, patchouli, and musk.

Black Frost

 

- 

This fragrance smells just like the popular car freshener scent! Top notes of lemon, eucalyptus, and mint. Mid notes of lavender, clove, and jasmine all on a dry bed of vetiver, cedarwood, and oakmoss.

 
*Ships within 8 business days
*Color shades, vibrance and pattern may vary from each freshie